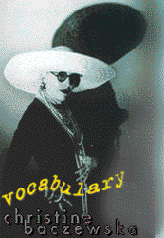 Graphic design and Photoshop design:
+Christine Baczewska
Audio:+Vocabulary
©1996 +Christine Baczewska
Composed, arranged, produced,
performed by +Christine Baczewska
Recording engineer:+Leslie Lavelanet
Harvestworks/Studio PASS, NYC
Shockwave:+M.R. Petit
HTML:+Jeremy Halpern, Christine Baczewska
Photos:+Janette Beckman

Vocabulary is a 1996 commission of New Radio
and Performing Arts, Inc., dba Ether-Ore, for
its Turbulence Project. It was made possible
with a grant from the Jerome Foundation.

Check out these compact discs:
+ christine baczewska, TRIBE OF ONE
+ DICE2, a collection of contemporary women composers
available from Tellus/Harvestworks
596 Broadway #602 nyc 10012
harvestw@dti.net

OR E ME: xtine @ interport.net