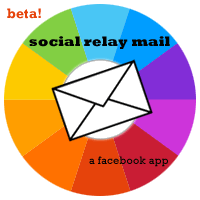 Social Relay Mail (SRM) lets you identify a stranger on Facebook and use your social network to deliver a private message. Turn your friends, your friends' friends, your friends' friends' friends into your personal courier service. Sending the message is only half the fun. In the process, discover the strength of your social network via a handy data visualization. Does your message arrive to its destination or get dropped? How many people will have to be enlisted along the way?

Social Relay Mail is part Pony Express and part Facebook hack -- testing the limits of interaction in a controlled social space.

Credits: Brooke Singer with Fever Creative

Social Relay Mail is a 2010 commission of New Radio and Performing Arts, Inc., for its Turbulence web site (turbulence.org). It was supported in part by public funds from the New York City Department of Cultural Affairs, in partnership with the City Council.